Phrasee's phavorite marketing tweets of the month: January 2018
---
It's 2018!
And, if January is any indication, we should be in for another interesting year.
GDPR is just around the corner, AI has found its way into the world's homes in the form of Alexa and Google Home,  and the email marketing world is gearing up for another year of massive ROI delivery. Meanwhile, here at Phrasee, we teamed up with Hubspot to bring subject line science to the masses.
All in all, a pretty amazing month.
Especially on Twitter.
Let's see what email marketing's best and brightest were tweeting about in January…
We handed out valuable pointers. Was it because we wanted to help, or because we were annoyed?
Dear #EmailGeeks,
Countdown timers in email are really cool.

However please, Please PLEASE think about alt text.

I've seen quite a few come up recently and not a single one had appropriate alt text.

Something like alt="Show starts at 19.30 on Friday 26th January"

</rant>

— Mark Robbins (@M_J_Robbins) January 25, 2018
We enjoyed subtle pleasures few outside of our circle could ever hope to understand…
When work rolls into the weekend… #happyhour #timeforacoldone #emailgeeks pic.twitter.com/1qGVbDxC6M
— Genna Matson (@gemliza) January 12, 2018
We strove for transparency…
Fun fact: When recruiters ask us to share a job posting with our members, our co-founders always ask for the salary range. It'll be much easier to close the wage gap if we all know what companies are paying for our work.

— Women of Email™ (@WomenOfEmail) January 4, 2018
And we took time to marvel at the magnificence of the digital age…
Encoding Text as an Image on @CodePen https://t.co/uL9GMjJ3si pic.twitter.com/HJCyoJ5M6K
— ᴊ▴ᴋᴇ ▴ʟʙ▴ᴜɢʜ (@jake_albaugh) January 29, 2018
We laid down the law…
Dear SalesJerks: When I've already unsubscribed/told you I'm not interested, please don't just start bugging my colleagues. Not cool.

— Email Snarketing (@EmailSnarketing) January 23, 2018
And found joy in the simple things…
Holy Shirt by @Chubbies #idhitthat #cta #emailgeeks pic.twitter.com/vqEGurwbZ9
— camiah (@cammmiah) January 4, 2018
We remembered to laugh at the modern age's absurdities, lest we cry instead…
Good old traditional blue gmail #brexit https://t.co/ZU7qwZrQ1I

— Elliot Ross (@iamelliot) January 30, 2018
Expressed ourselves in strange and wonderful ways…
The way that gif is movin, I can't take no more. Had to stop what I'm doin so I can Litmus scope it, I'm tryin to find the words to describe this email without being disrespectful. DAMN CODE! Damn yous some sexy code! Some sexy code. Damn yous some sexy code! #emailgeeks
— Anne Tomlin (@pompeii79) January 26, 2018
And wondered and the strange creative outlets of others (WHO WOULD DO THIS?)…
No idea what this game is called, but whoever made it, is the devil. pic.twitter.com/Ec98aGXSDD

— Steve Noah (@Steve_OS) January 24, 2018
But hey, they probably don't understand people like us either…
Is it weird that I get excited when I'm asked to write sql? #emailgeeks #agencylife
— Genna Matson (@gemliza) January 26, 2018
And everyone has their own unique vices, we suppose…
We had a great time sharpening our axe throwing skills at @badaxethrowing #Denver. Don't mess with us. 💪 #badaxes #badaxethrowing pic.twitter.com/eTy2aIefZP

— Email on Acid (@EmailonAcid) January 24, 2018
Although some are indeed objectively cooler than others (we should probably give this a try)…
New research finds that kids aged 4-6 perform better during boring tasks… when dressed as Batman. pic.twitter.com/AWU4rZ5Icm
— Quite Interesting (@qikipedia) January 7, 2018
But, in the end, everyone should do whatever makes them happy, and we all know who REALLY has life figured out… 
Daisy has the right idea. pic.twitter.com/2bWFFnyQzj

— Kristian Robinson (@joon82) January 1, 2018
So tweet on, you email marketing diamonds in the rough. We'll be watching as always, and we'll see you all in February!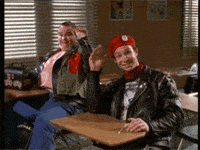 Trying to get ahead of the competition?
Check out our Learning Hub for everything you'll need to know!
---
You may also like:
Phrasee news
How will Apple's Mail Privacy Protection in iOS 15 affect Phrasee customers? Here's what it means for you.
Phrasee news
We are super stoked to announce our partnership with Braze. Read on to find out what's in store...
Phrasee news
We've partnered with Braze to eEnable seamless optimization of language across digital channels. Get the scoop.
Phrasee news
Phrasee announces the appointment of four new members of the leadership team, as demand for AI-Powered Copywriting continues to rise.
Phrasee team
We catch up with Jasper Pye, VP, Product at Phrasee, and John Galvin, Manager, Solutions Consulting EMEA at Cheetah Digital to find out more about the new Phrasee X Cheetah Digital integration from the experts that know it best!
Phrasee phun
Hi. We're Phrasee. And we make people money. How much money? If only there were some kind of tool where you could put in a few numbers about the performance of your email marketing program and then you'd click a button and get some kind of answer to that question! Oh wait! Find out what Phrasee could make for you.
Phrasee phun
With key email marketing performance metrics in decline industry-wide, finding ways to boost email marketing ROI is an important strategic goal for brands in 2021. Here's how to buck the trend and improve your brand's email marketing ROI in a rapidly shifting consumer landscape.
Phrasee phun
Travel has been in a tricky place but all indications, it seems, point to travel brands breaking out of the marketing holding pattern that they've been in, in the coming weeks and months. We've spent some serious time thinking about what our friends in the travel industry can do right now to prepare for the post-COVID-19 rebound to come.
Phrasee phun
With 2021 just around the corner, is your email marketing strategy ready? From personalization to segmentation and optimization to tracking, we share best practices for building an effective email marketing strategy.
Phrasee phun
This year, we are continuing our tradition and sending more bags of kindness to those in need. Find out more about why we're supporting the incredible cause that is Kindness Bags.