AI-powered Content for Retail Marketing
Harness the power of generative AI to get more clicks, conversions, and customers.
Loved by the world's top retail and ecommerce brands
Cut Through the Noise.
As retailers, it's never been more important to leverage your digital channels to connect with your customers and gain wallet share. Phrasee's generative AI creates on-brand marketing messages that are optimized by performance data to drive more customer engagement from your digital communications.
Your customers get engaging, personalized messages they love while you get more opens, clicks, conversions, and revenue. It's a win-win!
Automate Experimentation To Drive Better Engagement
For retail and e-commerce brands, testing is a tried-and-tested (get it?) way to discover what messaging resonates best with your audience and improve your campaign results, but it's also time and resource intensive.  Phrasee makes testing and optimization easy. Sit back and relax while Phrasee does all the heavy lifting to identify and optimize the most effective messages for your audience segments in real-time. 
Learn more
Build and Maintain Customer Loyalty
For continued growth, you need loyal customers. But with brand switching rife amongst consumers, retail marketers have to work hard to keep their customers engaged. Whether you're looking to reactivate lapsed customers, improve post-purchase communications, or optimize your loyalty programs, Phrasee's powerful AI guarantees your customers will return.
Learn more
Recover More Abandoned Carts
Top retail brands use Phrasee to re-engage customers who have abandoned their purchase journey with AI-optimized abandoned cart emails. Learn how Europe's leading electronics retailer, Currys, boosted abandoned cart recovery rates with Phrasee.
Read Currys case study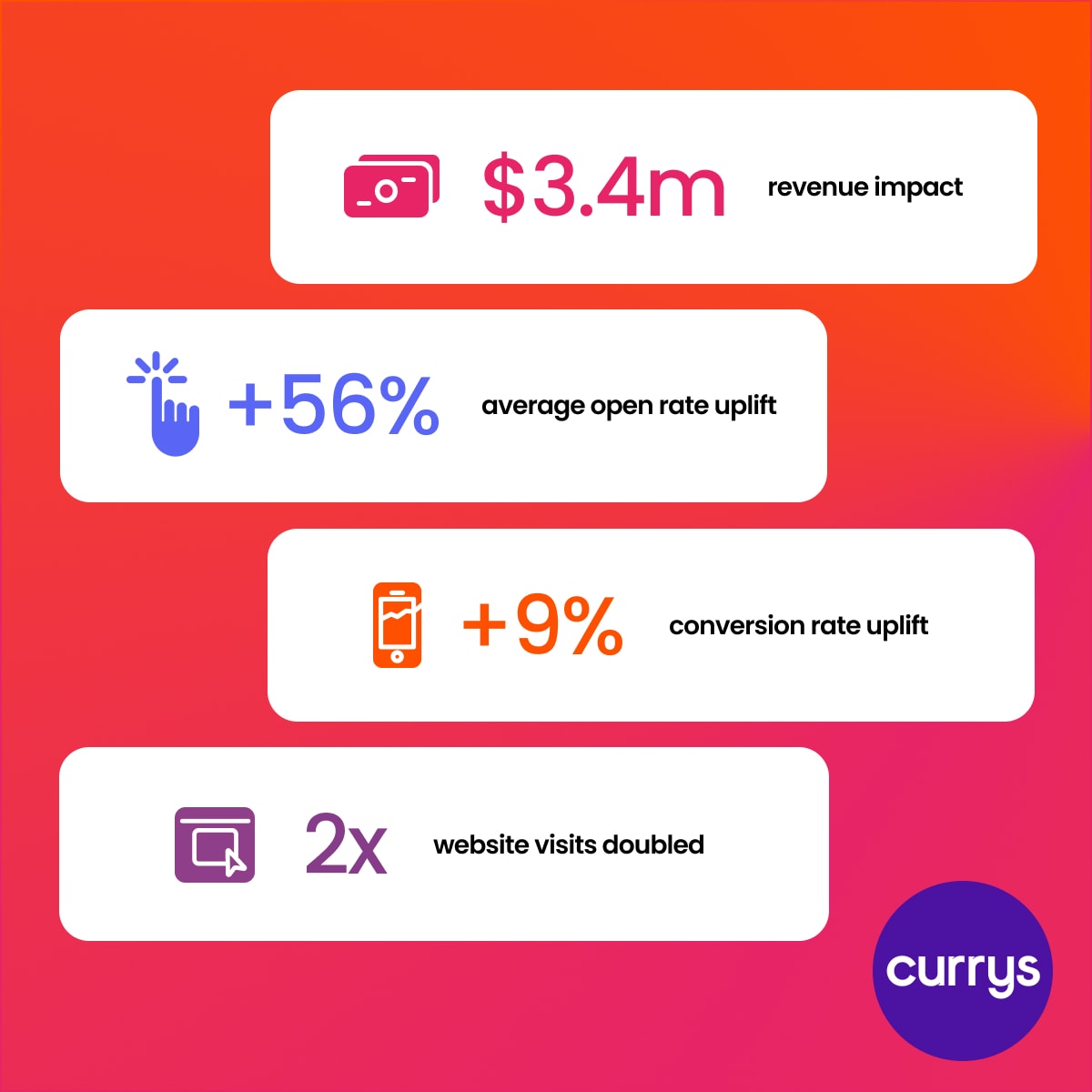 Write Product Descriptions with AI
As an ecommerce brand, writing product descriptions can often feel like a never-ending task. But fear not! With Phrasee's Content Engine, the solution is just one click (of the magic button) away—enabling you to generate effective product descriptions with language that's proven to engage.
Learn more
Scale Content Across Channels and Territories
As a retail marketer, you send out a ton of messages on a weekly, even daily, basis! That's a lot of content to create.
Use Phrasee to remove content bottlenecks by generating on-brand content instantly – all AI-optimized to drive increased engagement.
Phrasee supports content generation for multiple digital channels and languages, enabling you to scale content across your regions, sub-brands, and campaign types. What's more, Phrasee's AI is configured to your brand guidelines, ensuring consistency in messaging across all customer touchpoints.
Phrasee in Numbers
44%
Avg uplift in email open rates for retail & ecommerce brands
31%
Avg uplift in email click rates for retail & ecommerce brands
40%
Avg engagement rates uplift for retail & ecommerce brands
Testimonials