Optimize Your Promotional Campaigns With Generative AI
Phrasee's AI-generated promotional content cuts through the noise to help you achieve your marketing goals.
Capture Your Audience's Attention With Generative AI
In today's information-flooded world, capturing and keeping your customers' attention is becoming increasingly difficult. And crafting compelling offers isn't enough.
Phrasee optimizes every element of your promotional messages to increase customer engagement and conversions every time you hit send. Think email newsletters, seasonal promotions, product launches, and more.
Improve Promotional Content at Scale With Phrasee's AI
Learn more
Generate promotional copy in real time
Create diverse, on-brand promotional copy in seconds at the click of a "magic button."
Optimize every message automatically
Test and fine-tune your language to find the best-performing messages with Phrasee.
Powerful predictive performance
Phrasee's generative AI is trained on years of data to accurately predict the messages most likely to engage your audience.
Increased content output
60x
Understand what resonates with customers
Dive into your personalized reports to see what gets your customers clicking (and converting).
Avg email click rate uplift
24%
Better Marketing Results Across Every Digital Channel
Go beyond email and use Phrasee to optimize your SMS, push, social, web, and app messages for an integrated, omnichannel experience.
Learn more
Ensure Your Best Promotional Messages Reach the Most Customers
It's proven that better messages = better results. Maximize the impact of every message you send to reap the rewards and watch your engagement rates soar.
Learn more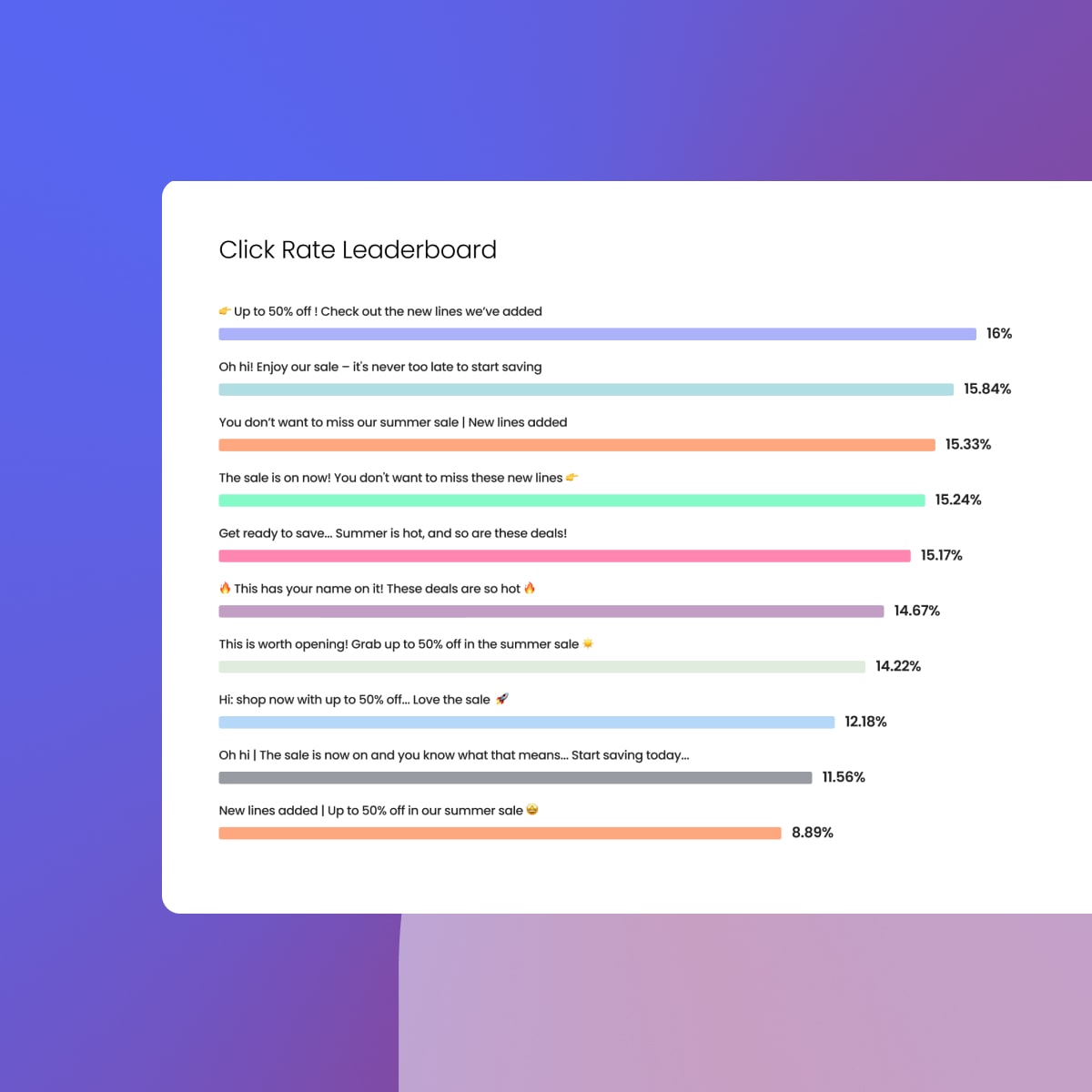 Testimonials
Supercharge Your Promotional Content With Phrasee Get a demo