More Clicks, Conversions, and Customers with
AI Content
Phrasee delivers AI-generated, on-brand content with enterprise-grade controls and optimization at scale.
Trusted by the world's top marketers
Content That Performs Better
Phrasee uses generative AI to generate billions of the best marketing messages across the digital customer journey. Through our enterprise-grade platform, we make it easy for marketers to test and optimize content for better performance, conversions, and ROI.
Generate
Phrasee's brand controls protect and amplify your brand's unique tone and voice while always generating content that delivers consistent experiences across the digital customer journey.
Predict
Phrasee generates and predicts your best-performing content based on data, not gut instinct.
Optimize
Ensure your best messages reach the widest possible audience by automating your experimentation at scale.
Understand
Know what messages and sentiments are clicking (or not) with your customers in real-time with automated language insights and performance reporting.
Learn more
AI powered.
On brand.
Enterprise–grade.
Learn more
Increased content output
60x
Time to generate an experiment
5s
Increased avg engagement rates
24%
Generate on-brand, AI-powered content at scale.
With Phrasee's fully self-serve UI, get AI-generated marketing messages that sound like they've been written by your copywriting team with a click of a Magic Button.
Instantly test message variants in real-time.
Phrasee makes testing, optimizing, and personalizing every marketing message easy through our self-service UI and out-of-the-box integrations.
Create content based on data. Not gut feeling.
Phrasee's AI-generated content is trained on hundreds of thousands of experiments to accurately predict what message elements are most likely to engage your audience.
Testimonials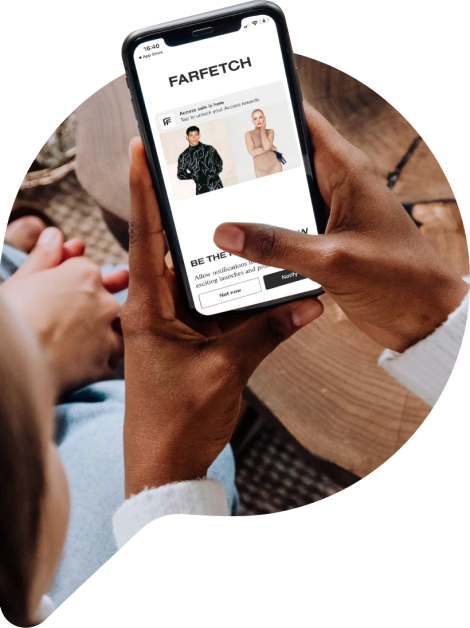 AI Content for All Your Marketing Needs
Frequently Asked Questions
Phrasee analyzes audience personas, product lines, and brand guidelines, and uses AI to generate and optimize copy unique to your brand and audience.
Phrasee's content AI platform helps marketing teams increase clicks, conversions, customer retention, and loyalty. We do this by generating and optimizing content such as subject lines, push notifications, and CTAs that are data-backed to engage and convert our customers' audiences. This frees up marketing teams to focus their creative skills, time, and experience toward more strategic and creative initiatives.
Tools such as OpenAI's ChatGPT and numerous other content generators that have built a solution on top of OpenAI's models have been hitting the headlines and social media feeds.
And hats off to them. It's pretty impressive stuff. But the content it generates needs to be vetted and tweaked. And, if you're a marketer, how do you know if it's good?  That's where Phrasee comes in.
Phrasee goes beyond pure copy generation, helping enterprise marketers increase customer engagement and revenue through content optimization across their digital channels and campaigns.
While content creation is a part of our solution, we realized early on that content generation is only part of the puzzle. And that's precisely why we focus on content creation AND optimization through performance prediction, testing, and insights to ensure that your customers receive engaging and relevant marketing messages that are always on-brand.
Not only does it sound like it's written by a human, Phrasee can be configured to sound like your brand.
Phrasee supports email (including email subject lines and CTAs), SMS, push, web/app, and social media.
While Phrasee doesn't need to be integrated, there are a number of integrations available to streamline your content generation and optimization process. For more information, check out our Partners & Integrations.
Without an integration, it's as easy as a quick copy and paste.
Latest from Phrasee
Check out the latest insights from Phrasee's data vault, blog, and more.
More from Phrasee
Ready to
transform your content with
AI?
Contact us