Optimize Your Website and App Content with Generative AI
Phrasee's content AI generates and optimizes the content across key pages and elements on your website and app for maximum impact.
Take Customers From Just Looking To Just Had To Have It
Optimize the content that's proven to drive conversions – your product descriptions, banner copy, headlines, and CTA copy – and increase engagement with your audiences with Phrasee.
Generative AI that has an immediate impact
Click Phrasee's "magic button" and generate copy for you website and app that's been trained on years of data to accurately predict what will engage your audience. From product descriptions to landing page headlines to homepage banners – automate the creation of high-performing content.
AI-generated content that sounds like your brand
No more content bottlenecks! Phrasee's content AI is trained on your brand guidelines to generate content in your brand's desired tone and style. Plus, our in-built approvals process gives brand guardians the last word.
Test and scale winning content
Every Phrasee send is an A/B/N experiment where Phrasee-generated messages compete against a human control to find the best-performing message for your audience.
Gain valuable customer insights
Understand how your audiences' language preferences change by channel and discover what copy elements drive desired behaviors.
Discover Our AI Platform
Automate Copy-Based Web and App Experiments
Phrasee's AI automatically tests the impact of different messaging, wording, and sentiments on key website elements such as headlines, banners, call-to-action buttons, and more.
Learn more
Boost Sales with AI-Optimized Product Descriptions
Guide your customers' purchasing decisions with engaging and persuasive product descriptions, created with a click of the magic button. Phrasee's Content Engine highlights essential features and benefits while ensuring your descriptions are on-brand and optimized for audience engagement.
Learn more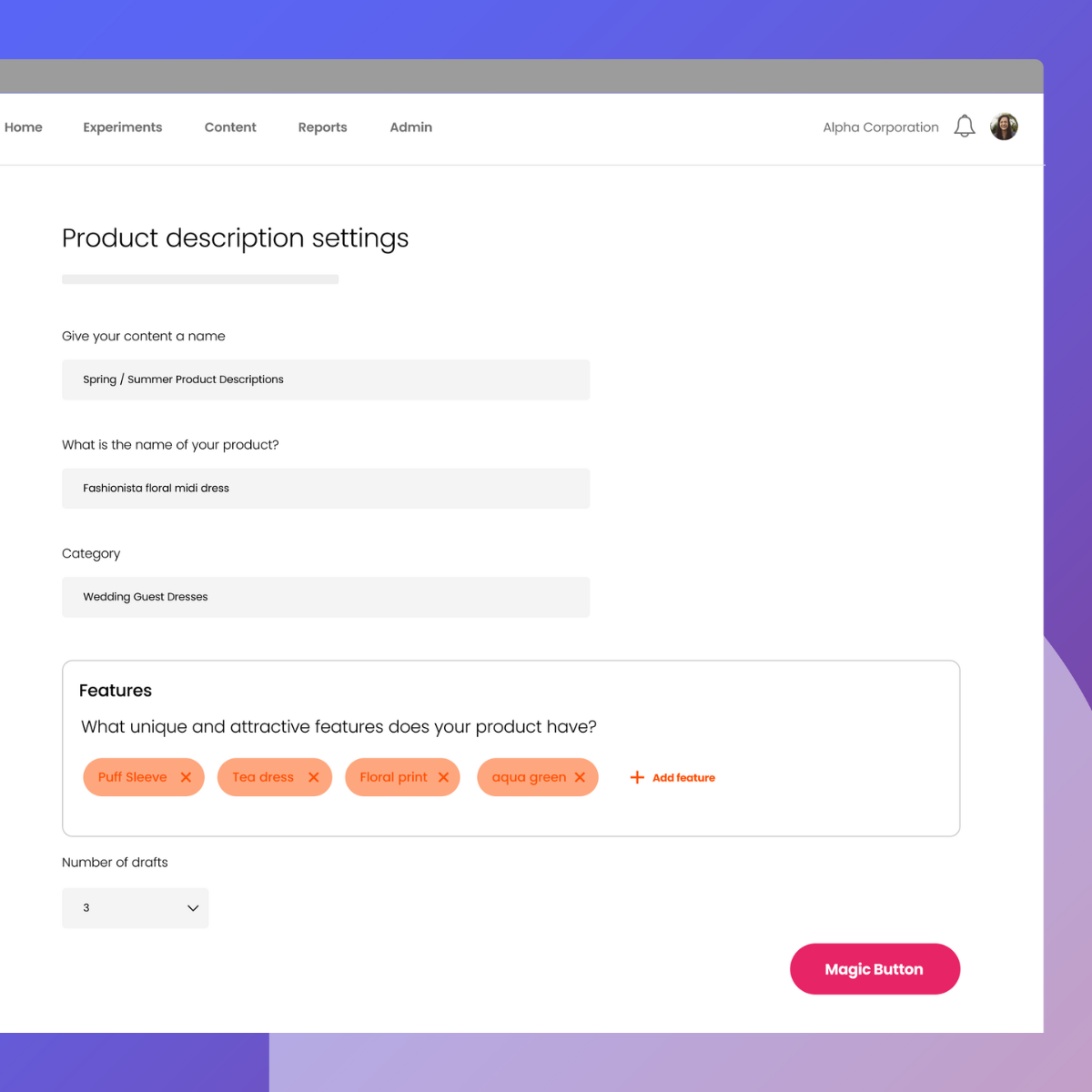 Guide Visitors Through Your Website With Action-Optimized Copy
Phrasee determines the language that resonates the most with your target audience. By generating AI-optimized messages, your content gets supercharged to drive the action you're looking to achieve across web and app channels – whether it's making a purchase, signing up for a newsletter, or filling out a contact form.
Learn more
Phrasee in Numbers
5s
Time to generate on-brand, AI-optimized messages
60X
Increased content output
5s
Time to generate on-brand, AI-optimized messages
Testimonials