Email subject lines for history's greatest writers
Literature is high-brow food for the sophisticated mind.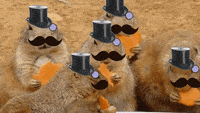 We here at Phrasee are nothing if not sophisticated, we've even read books and stuff. But what we really love to read are awesome email subject lines.
While much shorter and easier to read than a tome like War and Peace, and much easier to follow than most of the works of Shakespeare, we have always believed that subject lines can be masterpieces, too. Maybe that's why we give them so much care and attention…
But is there a halfway point, a compromise between the works of history's greatest writers and modern email subject lines? We think there just might be.
If George Orwell or Virginia Woolf were alive today, would they be willing to bring their mastery of language to bear on the problem of crafting the perfect marketing email subject line? Who's to say?
We like to think that these literary giants would delight in the opportunity to combine their wordsmithing skills with our machine learning email subject line optimisation technology, but what do we know?
The good news is that in this digital age we have easy access to the collected works of our literary heroes. The bad news is that our amazing tech is busy increasing our clients' open rates, conversions and ROI at the moment. So for now, all we can do is imagine the possibilities.
And imagine we shall!
Email subject lines for history's greatest writers
William Shakespeare (King Lear, Romeo & Juliet, Hamlet)
"Give every email thy ear, but few thy money"
Virginia Woolf (
To the Lighthouse, Mrs. Dalloway, Orlando: A Biography)
"I am drowning, my dear, in seas of rental cars. Book yours today!"
Leo Tolstoy (War and Peace, Anna Karenina, A Confession)
"Nothing is so necessary for a man as the company of intelligent women. So join eHarmony today!"
Charles Dickens (Great Expectations, A Christmas Carol, Bleak House)
"The pain of parting is nothing to the joys of 2 for 1 pizza from Pizza Hut"
Jane Austen (Pride & Prejudice, Sense & Sensibility, Emma)

"It isn't what we say or think that defines us, but how many half price purses we buy today"
Ernest Hemmingway (The Old Man and the Sea, Farewell to Arms, The Sun Also Rises)
"There is no friend so loyal as a book from Amazon"
Charlotte Bronte (Jane Eyre)
"Whatever our souls are made of, Travelocity's and mine are the same"
Maya Angelou (I know why the caged bird sings, and still I rise)
"Nothing can dim the light that shines from 7-11"
Agatha Christie (Murder on the Orient Express, A Pocket Full of Rye)
"The secret of getting ahead is opening this email"
Mark Twain (Adventures of Huckleberry Finn, The Adventures of Tom Sawyer)
"Politicians and diapers must be changed often, and for the same reason. Make yours Pampers!"
J.R.R. Tolkien (The Lord of the Rings, The Hobbit, The Silmarillion)
"Not all who wander are lost. Especially not those who booked with Agoda!"
George Orwell (1984, Animal Farm)
"Told you! LOL!"
Franz Kafka (The Metamorphosis, The Trial, The Castle)

"What if I slept a little more & forgot about all of this nonsense on my Sealy Posturepedic?"
Emily Dickinson (Poet)

"Beauty is not caused. It is. With Mac Cosmetics"
Fyodor Dostoevsky (Crime and Punishment, Demons, The Idiot)
"The cleverest of all, in my opinion, is the man who opens marketing emails at least once a month."
Sign up to Phrasee's weekly newsletter. It's awesome. We promise.