Email subject lines for history's lamest fads
Remember this?

Or this?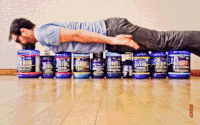 How about this?
Chances are, you probably remember at least 2 of those. If you remember all three, you're probably old (like us!).
The phenomenon of the "fad" spans untold generations. From the sea monkey to the pet rock to the yo-yo, fads have been a ubiquitous global presence for years beyond counting. Now, with the astonishing power of the internet at their backs, fads get bigger, spread wider, and do so faster than ever before.
Some fads are noble in their aims (the much-maligned "Ice Bucket Challenge" raised over $100 million for ALS research), while others are just plain dumb (the recent spate of people ingesting laundry soap whilst participating in the "Tide Pod Challenge" has resulted in over 50,000 calls to US Poison Control offices). However, regardless of the scope and idiocy level of a particular fad, all seem to capture the public's attention and have widespread appeal.
Which got us here at Phrasee thinking:
Could the popularity of such fads be put to commercial use? Could their appeal be combined with our cutting-edge AI natural language generation platform to produce email marketing gold through the magic of stunning email subject lines?
It certainly sounded promising…
Sadly, our AI tech is busy helping our phantastic customers make more money through better marketing language.
But that doesn't mean we can't speculate…
Email subject lines for history's lamest fads
Crocs (2000s)
"Give up on life. Choose Crocs!"
Black lights (1960s, 1980s)
"Looking for a way to let everyone at the party see those old stains on your shirt?"
Backwards clothes (1990s)

"If teenagers are doing it, it must be cool."
Troll dolls (1960s)
"Cute and ugly, together at last!"
Planking (2000s)
"It's like a selfie, only better."
Purse dogs (2000s)
"The best accessories are the ones you'll need to feed and take care of for the next 13 years"
Pet rocks (1970s)
"Give me your money, idiot."
Saggy pants (1990s)
"Dude. This will NEVER go out of style."
The Harlem Shake
"Show the world how cool your company is in just 600 easy steps!"
The mullet (1980s)
"Maybe wearing backwards clothes wasn't such a bad idea, after all."
Sign up to Phrasee's weekly newsletter. It's awesome. We promise.