Who to follow: Courtney Prebble
---
Who to follow: Courtney Prebble (@prebbbz)
Courtney Prebble has a lot to say about email marketing.
Courtney is a digital designer and member of the client services team at Oracle + Bronto, a sophisticated commerce marketing automation platform for high-growth retailers.
In her role as digital designer at Bronto (which she has held for just over a year), Courtney designs and codes custom email templates, website pop-ups, and webforms. But her skills don't end there.
Describing herself as a "resource chameleon" due to her background in product and project management, user experience design, graphic/layout design for print and front-end development, Courtney's journey to email was long and winding, and involved the wearing of many hats. She has been involved in delivering projects for web, iOS, and Android, as well as several privately commissioned coffee table books.
Three years ago, Courtney decided to "leave agency life for a while", choosing to work on a contract basis whilst ramping up her design and development education and exploring her digital options. During this transitional period, Courtney started designing email templates for clients and discovered that not only was she pretty good at email design, but she actually enjoyed it.
With Bronto, Courtney has been given an opportunity to really sink her teeth into email and now considers herself a proud member of the #emailgeeks community. In addition, as a person with both dyslexia and a seizure condition, Courtney has become a standard-bearing accessibility advocate with a pretty awesome all around social media presence.
the companies with my favorite email designs keep getting acquired by walmart. Prayers 4 their email designers and developers #emailgeeks

— Courtney Prebble (@prebbbz) July 6, 2017
it's twin day @Bronto! #comeplaywithus#theshiningtwins#kubrickhallways@rachelplainjanepic.twitter.com/ZSpFSj2YWj
— Courtney Prebble (@prebbbz) July 2
Couple a Twitter presence like that with Courtney's skills and knowledge, and add in a pretty remarkable personal story (Courtney was a professional equestrian show jumper for 5 years before becoming a designer!), and you've got a social media dynamo that every email geek should follow.
But is there more to this mysterious left-handed show jumping hero than just great tweets?
Let's see, shall we?
Courtney Prebble tale of the tape
Favourite food: Rosewater flavored ice cream
Pets: 2 pups: Rocky, a Miniature Schnoodle (Schnauzer+Poodle) and Rappy, the world's largest Papillion (seriously, he's the size of a Corgi!). The musical theme re: their names is a delightful accident (get it? Rock-y + Rap-py).
Dream job as a child: I wanted to be a veterinarian until I was about 10 years old. Then, I found out that I faint at the sight of blood while watching a very scary horror movie at a slumber party! After that, I chose to be occupationally undecided for the remainder of my youth.
Last big purchase: I'm obsessed with Pilot Frixion erasable pens (I'm left-handed and they are a godsend!). I'd hazard a guess that my most recent order of #allofthecolors falls within the splurge realm.
Guilty pleasure: My playlist containing genre-crossing covers of the Simple Minds song "Don't You Forget About Me", plus regularly binge-watching all the 10th Doctor (David Tennant) episodes of Doctor Who.
Pet peeve: When in pursuit of a solution to a difficult problem, being unwilling to consider what answers may lie in the danger-zone known as the "left field" absolutely grinds my gears. 😉
An interview with Courtney Prebble
For those who might not know, what are Oracle + Bronto and how do they make life easier for brands/marketers?
Oracle + Bronto arms high-growth retailers with sophisticated marketing automation to maximize revenue opportunities. The Bronto Marketing Platform powers personalised multichannel content that generates the higher engagement needed for retail success. Keenly focused on the commerce marketer, Bronto continues its long-standing tradition as a leading email marketing provider to the global Internet Retailer Top 1000, and boasts a client roster of leading brands, including Rebecca Minkoff, Timex, Lucky Brand, Theory, Brooks, Ashley Homestore and Christopher & Banks.
Can you tell us about your Twitter avatar? Where did it come from?
I actually designed and made it in Adobe Illustrator myself. If you couldn't tell already, I'm definitely a bit "quirky" in real life and without a doubt a total nerd.
If you're from Durham, NC, you've maybe even seen me cruising around the downtown area on my scooter (aka "The Sonic Screwdriver" for all the Doctor Who fans out there) rocking one of the "several" (translation: way too many) pairs of heart-shaped sunglasses that I own.
So, it's safe to say that my avatar is a true reflection of my personality – or at least I hope it is!
Additionally, there's a metaphor hidden in its design. I wear glasses in real-life to help combat the visual challenges of dyslexia. The heart-shaped spectacles in my avatar are meant to convey that I see the world just as clearly as everyone else, I'm just looking through a slightly different pair of lenses.
This question is actually a great segue to discuss a topic that has turned into a passion of mine thanks to working in the email industry: accessibility.
In addition to being dyslexic, I also have a seizure condition. As an adult, having two untraditional and "invisible" disabilities (especially in our hyper-digital world) has thrown some interesting hurdles my way.
Working at Bronto has been really wonderful for me. Not only have I gained a deeper understanding about the power of content, I've also learned to think beyond visual design, layouts, click rates, touchpoints, and conversions.
The email geek community as a whole deserves a round of applause in this area. I think they're doing a great job keeping the conversation of accessibility in email going, which is crucial. I believe there's a real possibility that being super cognizant about readability and testing for rendering consistency across devices and email clients will soon become a "must do" versus a "should do".
Furthermore, as someone who is directly impacted by accessibility in email (strobe-like or flashing gifs are always an unpleasant surprise in particular), I believe it's important to understand who's going to be reading the content, where(location-wise) the content is likely to be read, how the recipient is likely to be feeling before, after, and during their interaction with the content, and most critically, the different ways the content could affect recipients.
The projects I'm involved with at Bronto make accessibility requirements and considerations a priority from kickoff to delivery. I'm very grateful to be involved with an organisation that takes an important topic like this so seriously!
On a personal level, what were formerly frustrations related to both my disabilities have turned into intuitive perspectives. Now, I am able to both appreciate and even see value in experiencing accessibility challenges firsthand. Knowing that the work I get to do daily is going to make a dent in the amount of inaccessible content hitting our inboxes (regardless of how large or small) has been really empowering.
Aside from working to become more accessible, what have been some of the most intriguing recent developments in email design?
My curiosity has actually been piqued by a yet to be tapped development: Apple's new(ish) iMessage micro-app store.
Especially in the eCommerce space, as I'm already seeing stores, like Nordstrom and Saks 5th Avenue, invest in and release their own iMessage micro-applications. I think that there could be some really interesting ways email marketing could leverage calls to action by integrating either with a company's own native iMessage micro-app or simply allowing recipients to share, discuss, and interact with offers in one-on-one and group iMessage conversations.
Interesting. How would this make the dialogue between consumer and brand more effective?
It would create a more organic way to receive, for example, an incentive from an abandoned basket email that's contingent on sharing. I think allowing subscribers to take the reins when it comes to sharing content with their contacts, in contrast to the opportunistic and spammy auto-generated options currently available, will actually motivate them to engage with these types of offers more regularly.
Additionally, the iMessage micro-apps live within the iMessage app and do not take up any precious home screen real estate. A lot of native retail apps often get downloaded and deleted due to what I'd describe as "declutter syndrome". Time will tell, but this may be a clever way for companies to avoid that problem and increase engagement at the same time!
Which actually reminds me, I need to bump Apple's iOS development language Swift to the top of my "To Learn" list!
You mentioned email/ecommerce integration. What part should email marketing play in the digital journey to purchase?
It's interesting that you used the word "journey". I think that the term/buzzword "customer journey" subliminally creates the notion that email marketing should be a "stop" along the way for a recipient. And that makes total sense.
However, a few years ago, I had a moment which can only be accurately described by the gif below that taught me to resist thinking this way: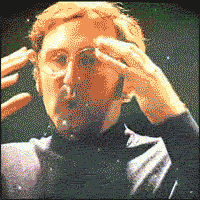 My team and I were tasked with developing a private group photo sharing application. Our original assumption was that the "journey", in this case, was circular.
As an exercise, a new team member with a background in service design suggested that we step away from the whiteboard and physically act out the interactions of the application (a discovery technique known as "bodystorming"). I looked at her like she was nuts, but as someone who is always up to try out a new way to solve problems, I said "sure, why not?".
What did your team learn from the experiment?
Thank goodness we did the bodystorming exercise, because it turned out we were wrong. Instead of following the circular path we had plotted out in our 2-dimensional sketch session, the application served as more of a nucleus and the interactions bounced between members of the group; the way electrons do around the protons and neutrons in an atom.
How can the "atomic model" be practically applied to the digital journey to purchase and email design?
Similar to the photo application I was involved with previously, I think the digital journey to purchase should be viewed more three-dimensionally than it currently is.
Instead of points along a set path, I'd recommend substituting an electron for each designated stop in the digital journey to purchase and allow email marketing to fill a more central role as the nucleus. This way of thinking enables marketing efforts and email campaigns to be more adaptable and inclusive. Which is paramount, especially given all the different variables and use cases created by mobile devices now that email is primarily read on the go instead of sitting down at a computer.
How does such an approach inform your personal email design method?
I ALWAYS start my email design process by sketching it out on paper. Then, instead of jumping right into my design software or writing a line of code, I'll take a few moments to trace over the interactions and CTA placements with my fingers (even though it usually makes people look at me like I'm crazy). If your content is going to be read on a mobile device, your recipients are going to be touching it. Besides allowing for me to iterate faster, I can't tell you how many times having that tactile connection has enabled me to produce a stronger final deliverable (at least in my opinion!).
What keeps email marketing relevant in the age of social media?
I consider email marketing to be a digital version of "the little black dress". It's timeless, ageless, classic, consistent and constant. In contrast to social media, email proves itself, again and again, to be trend agnostic.
Furthermore, the competition between social media platforms has led to nothing but serious feature bloat, clunky user experiences, and target audience reach limitations. How annoying is it that the "big 3" – Twitter, Facebook, and Instagram – all felt the need to add private messaging and Snapchat-esque "stories/moments"? I have so many direct messages to check these days that I'm feeling pressured to block time for each app off on my calendar! In contrast, as long as the email is designed well, thoroughly tested (re: Outlook/Gmail/Android rendering in particular), and accessible, subscribers can view your content via any of the popular email client flavours.
All this extra digital noise is comparable to the feeling I get from my almost always disastrously messy closet, which is great for email marketing(!). Because, regardless of the occasion (target audience), location (device), or venue (email client), I can always rock (and in my case find!) my trusty LBD — just like organizations can count on email campaigns to help them rock their marketing goals!
Most importantly, despite those pesky rumours that resurface each year, the dependability and versatility that email marketing shares with the LBD mean that it is here to stay and well worth the investment!
Final question, for branding's sake, who is your favourite superhero?
Obviously this kid: Laura Kinney, originally known as X-23.
me while testing #emails today thanks to #outlook + #android causing random AF #mayhem in my layouts #emailgeeks cc: @litmusapp pic.twitter.com/ZGlZQZCGRY
— Courtney Prebble (@prebbbz) April 6, 2017
Trying to get ahead of the competition?
Check out our Learning Hub for everything you'll need to know!
---