Phrasee's phavorite marketing tweets of the month: June 2018
---
Summertime is here at last!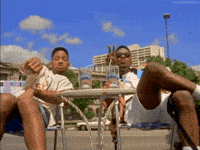 Which is great news if you've just moved into a swanky new office with a sweet rooftop patio.
Which the team here at Phrasee has.
But regardless of whether you spent your June on a rooftop patio or hunkered down in front of your computer screen, the good news was that we all had the glow of amazing email marketing tweets by the bushel to keep us warm and happy.
Let's see how we did this month…
We GIFfed our way to glory…
Remember that time I thought I could try to work with a WYSIWYG email builder #emailgeeks pic.twitter.com/5MPKB6ZVUm

— Jenn Clauss (@jenn_clauss) June 26, 2018
And polled our way to a better understanding of our industry…
Our 2018 #emailgeeks survey results are published! 📊https://t.co/xgFXGuwPdt pic.twitter.com/HmOjvfCQfI

— Really Good Emails (@reallygoodemail) June 27, 2018
We spent quality time with our amazing email compatriots…
The NYC @WomenOfEmail meetup was a smashing success, and a good time was had by all! #emailgeeks pic.twitter.com/vGp3RYxcbD

— Phrasee (@phrasee) June 28, 2018
And blazed impressive new trails…
🌟 Trailblazers can be found in every corner of the world. Watch the #CNX18 keynote to see @EmailSnarketing's story of inclusion and empowerment: https://t.co/nWWWyBaOrD pic.twitter.com/4WWbk6X7sn

— Salesforce (@salesforce) June 18, 2018
Our ears burned a little…
📢 Calling all #emailgeeks

What's your favourite email marketing blog of 2018 so far? pic.twitter.com/4zTKn4lpKK

— Alex Ilhan (@omgitsonlyalex) June 19, 2018
And longtime friends struck out boldly on their own…
#Freelancing pic.twitter.com/tEItvrJ25X

— Mike Ragan (@Mike_Ragan) June 7, 2018
We shamed the less email-savvy in our own teams…
Just noticed that an email from my team contains the phrase "bookmark this email so you can come back to it."

What the actual does that even mean? Some days you need more than a proofer.#emailgeeks #EmailMarketing #WednesdayWisdom pic.twitter.com/usfxt4sIj3

— Sarah P. Morgan (@susantherobot) June 27, 2018
And let our own GIF savvyness shine…
Tickets booked for #LitmusLive London ! Can't wait to meet all those #emailgeeks ! pic.twitter.com/A3ATYmo6c9

— Majelice (@majelice) June 26, 2018
We remembered that we weren't so different from those who don't work in our strange field…
In simpler times, four years ago, my 3-year-old son woke up from a bad dream about…emails. pic.twitter.com/MVTHZB5DZR

— Jason Farman (@farman) June 19, 2018
Even if they may not always know exactly what the heck we're on about…
Tip of the day for my #emailgeeks

Instead of using `<!–[if (mso)|(IE)]>` to get all versions of windows Outlook you can just use `<!–[if true]>`

— Mark Robbins (@M_J_Robbins) June 1, 2018
And, most importantly of all, we maintained the humility to admit our mistakes…
It has come to my attention that I have not been using the correct vml for Windows Mail. It has also come to my attention that the correct vml has been available for approx. 1 year. pic.twitter.com/IIynKLjyzW

— Anne Tomlin (@pompeii79) June 21, 2018
Like somehow letting this awesome tweet from May slip by unrecognised in our Tweets of the Month post in May (how did this happen?)… 
#EmailGeeks Assemble! @ActionRocket @emailoctopusco pic.twitter.com/gtMeUBRAy9

— Rut Dawson (@rutdawson) May 22, 2018
So tweet on, you crazy email marketing diamonds. We'll be watching as always, and we'll see you all in July!
Trying to get ahead of the competition?
Check out our Learning Hub for everything you'll need to know!
---
You may also like:
Phrasee news
How will Apple's Mail Privacy Protection in iOS 15 affect Phrasee customers? Here's what it means for you.
Phrasee news
We are super stoked to announce our partnership with Braze. Read on to find out what's in store...
Phrasee news
We've partnered with Braze to eEnable seamless optimization of language across digital channels. Get the scoop.
Phrasee news
Phrasee announces the appointment of four new members of the leadership team, as demand for AI-Powered Copywriting continues to rise.
Phrasee team
We catch up with Jasper Pye, VP, Product at Phrasee, and John Galvin, Manager, Solutions Consulting EMEA at Cheetah Digital to find out more about the new Phrasee X Cheetah Digital integration from the experts that know it best!
Phrasee phun
Hi. We're Phrasee. And we make people money. How much money? If only there were some kind of tool where you could put in a few numbers about the performance of your email marketing program and then you'd click a button and get some kind of answer to that question! Oh wait! Find out what Phrasee could make for you.
Phrasee phun
With key email marketing performance metrics in decline industry-wide, finding ways to boost email marketing ROI is an important strategic goal for brands in 2021. Here's how to buck the trend and improve your brand's email marketing ROI in a rapidly shifting consumer landscape.
Phrasee phun
Travel has been in a tricky place but all indications, it seems, point to travel brands breaking out of the marketing holding pattern that they've been in, in the coming weeks and months. We've spent some serious time thinking about what our friends in the travel industry can do right now to prepare for the post-COVID-19 rebound to come.
Phrasee phun
With 2021 just around the corner, is your email marketing strategy ready? From personalization to segmentation and optimization to tracking, we share best practices for building an effective email marketing strategy.
Phrasee phun
This year, we are continuing our tradition and sending more bags of kindness to those in need. Find out more about why we're supporting the incredible cause that is Kindness Bags.