Phrasee's phavorite marketing tweets of the month: June 2017
---
June is the peak of every year's arch.
It's the hump month!
Yes, as far as 2017 is concerned, it's all downhill from here.
Which is weird, if you think about it.
So we here at Phrasee try not to!
Instead, we focus our attention as much as possible on the wild and wonderful tweets of the email marketing world, where everything stays basically the same, and presumably always will.
Sure, we may have added a few new members (like Jenn Clauss and Andy Thorpe) to the illustrious "Who to follow" club. And sure, many members of the once dynamic #emailgeeks Twitter community may have flown the coop for greener digital pastures (Damn you, Slack!).
But some of us are still here (and not just because our application to join the Emailgeeks Slack group was mysteriously never accepted).
For those of us left behind by the relentless march of digital technological progress and the bitter winds of exclusionism, there will always be Twitter.
So, with that in mind, here are 10 reasons we still prefer to keep abreast of the email marketing world's comings and goings on this much maligned platform…
Phrasee's phavourite email marketing tweets of the month: June 2017
Reason #1: Watching our fellows get dragged kicking and screaming into adulthood…
I've taken my daughter to a kids party.
It's a disco.

This is my nightmare.

— Kristian Robinson (@joon82) June 25, 2017
Reason #2: Where else could we possibly hope to learn Bill Murray's thoughts on email? (Found credit: Sam Iodice)
I email you because you make social interaction awkward.
— Bill Murray (@BiIIMurray) May 31, 2017
Reason #3: Scabby tattoos, anyone?
Can't wait to be able to exfoliate this sucker 😬 pic.twitter.com/9GDlvFqpSw

— Jacques Corby-Tuech (@iamacyborg) June 27, 2017
Reason #4: Daily Elliot Ross sarcasm level updates
Never give up on your dreams #MondayMotivation pic.twitter.com/mMGWLGAcFy
— Elliot Ross (@iamelliot) June 19, 2017
or…
do the millennials still use parchments written on a goat, tho?

— Elliot Ross (@iamelliot) June 12, 2017
 or…
Glastonbury debt is a thing huh? bloody brexit. pic.twitter.com/rWEzKbFLUo
— Elliot Ross (@iamelliot) June 25, 2017
Reason #5: Myth busting!
I watched it… and it boiled… I believe in nothing now! pic.twitter.com/Z5v6u2Vo6w

— Parry Malm (@ParryMalm) June 5, 2017
Reason #6: Being inspired by people who REALLY love this job:
Last night:
Husband, looking @ my screen & sees code: Are you working?
Me: No, I'm looking up CSS transitions for fun.
How did I get here?

— Anne Tomlin (@pompeii79) June 23, 2017
Reason #7: Annett Forcier tracking – does this woman ever sit still?
Hey, #SanFrancisco #emailgeeks is anyone up for a spontaneous meet-up on Friday, June 30th? Please let me know.

— Δnnett (@The_Annett) June 28, 2017
Reason #8: The shared email marketer's descent into madness…
I had a nightmare that my entire field of vision was a screen and I couldn't tab out of it.#Cool #Story #And #Lifestyle #Bro
— Mike Ragan (@Mike_Ragan) June 17, 2017
Uncontrollable excitement about a new breadbin

— Alex Ilhan (@omgitsonlyalex) June 7, 2017
Yes. I can confirm. It is both these things!🙃 #tastetesting pic.twitter.com/OET03ZV0KC
— Annette West (@nettywest) June 27, 2017
It's too hot, drop the top off the wagon
Lay back, blowing fire like dragon (Poof!) pic.twitter.com/sGh8M8PLZT

— Frode Myklebust (@famyklebust) June 20, 2017
Reason #9: Sharon's "giffing emails" series…
Giffing Emails: When someone asks why I do email instead of web https://t.co/JQWQkgRDi2 pic.twitter.com/wzPiGuZrls
— Sharon J (@EmailChicGeek) June 23, 2017
Giffing Emails: When you do an email for a friend to be kind, then they ask for a billion… https://t.co/n85uYAL5La pic.twitter.com/7ODjl3ACkv

— Sharon J (@EmailChicGeek) June 16, 2017
Reason #10: Grumpy Skeletor
I hope you all have a miserable weekend, you bunch of pricks. pic.twitter.com/TP1GjkjFSz
— Skeletor (@GrumpySkeletor) June 24, 2017
If you're wondering why He-Man is so angry, it's because I just touched him with a stick that had a bit of dog poo on the end of it. Lol. pic.twitter.com/pfqpr2itV9

— Skeletor (@GrumpySkeletor) June 10, 2017
P.S. Accepted application or no, we know what's really going on on Slack.
Yes, we're talking about you. pic.twitter.com/9WBSyujyZz
— email snarketing (@EmailSnarketing) June 28, 2017
So tweet on, fellow social media orphans. It's only a matter of time until they all come crawling back to Twitter, where they belong. Until then, we'll be watching, and we'll see you all in July!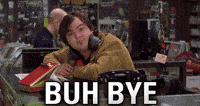 Trying to get ahead of the competition?
Check out our Learning Hub for everything you'll need to know!
---