Phrasee's phavorite marketing tweets of the month: February 2018
---
Aquarians are the best.
Sure, we may be unreliable, stubborn, indecisive, and inflexible, but we are also intelligent, social, independent AND excellent communicators (not to mention good-looking).
Cristiano Ronaldo, Harry Styles and Ed Sheeran are all Aquarians… so… yeah… that's a thing as well. Sadly, both Phrasee and our venerable founder Parry Malm missed the cut and must suffer as lowly Pisces
But it's not only perfect and talented babies that February produces.
The year's shortest month is also famed for its amazing email marketing tweets!
Let's have a look, shall we?
February 2018 was a month in which some urged caution…
need to think about it some more, but we should be careful about handing google control of the entirety of email html rendering on a plate, just because outlook is a bit crap #AMPConf #emailgeeks

— Elliot Ross (@iamelliot) February 13, 2018
While others threw caution to the wind…
Great. Friday afternoon and we have an email that's gone out with a wrong link. #EmailMarketing #emailgeeks pic.twitter.com/k6ABeWHivk
— Angelo Ignacio (@aignacio09) February 9, 2018
Frustrations boiled over…
if i wake up to another Salesforce Marketing Cloud automated incident notification email I'm going to start writing our subscribers hand written letters because there's a 99% chance it'll get to them faster. #emailgeeks

— nikk (@nikkpearce) February 9, 2018
And harsh truths were told…
I'm a big fan of winback #emailmarketing. But it's useless when the discount code doesn't work and customer service ignores your emails. @TempleSpa @gilchristsoames #emailgeeks #lifecyclemarketing #icouldusesomeshampoo pic.twitter.com/GAXaD1OLQU
— Jen Capstraw (@jencapstraw) February 9, 2018
We spoke the language of the youths…
Yo dawg they heard you liked marketing clouds. #emailgeeks

— wd (@wdevlin) February 9, 2018
And celebrated our victories…
TFW you finally solve a code problem and get the email to display how you want it to! Especially when you're using a new programming language! #emailgeeks #mjml pic.twitter.com/8nbHsqP09b
— Steven Sayo (@Sayo1337) February 8, 2018
We reckoned our T-shirt game was on point…
My birthday isn't until July, but if anyone wants to buy me an early birthday present…😆 #emailgeeks pic.twitter.com/YRRMYJgpUK

— Ursula Fox-Koor (@ufoxkoor) February 8, 2018
Then wondered if the children of the 80s beat us to it…
"The email marketing world should be happy. Email's here to stay, among millennials more than any other age group. " 🙏💌😍
| https://t.co/ovPxLaScpk | Via @MediaPost #EmailIsKing #LongLiveEmail #EmailMarketing #EmailGeeks pic.twitter.com/MzblNUHdRN
— e-shot™ (@eshot_net) February 6, 2018
We networked hard (has there ever been a more appealing proposal?)…
Any #emailgeeks want to collab on something crazy in email? I currently have 0 ideas, but I'm sure we could come up with something that breaks email as we know it. If you're in, reply and we'll build a super team.

— Chris Vasquez (@ClickPop) February 8, 2018
Shared our knowledge (we're generous like that)…
I don't use any fancy follower growing techniques. I just follow people who engage with my content, with @litmusapp, or with #LitmusLive.

Honestly, most of my time spent on Twitter is just trying to share useful, unique insights and learn from other #emailgeeks.
— Chad S. White (@chadswhite) February 6, 2018
And pondered life's great mysteries…
Garfield is a cat and doesn't have a job. The only ostensible difference between Monday and any other day is that Jon suddenly isn't around after having been home all weekend. Garfield doesn't hate Mondays, he loves Jon and is too proud to say it.

— Colley (@JamColley) February 18, 2018
We created new mysteries for future generations to solve (we still don't get this one, but we like it)…
Tremors and email. pic.twitter.com/rlx99d3pbD
— Anne Tomlin (@pompeii79) February 2, 2018
And, above all, we made sure that the warm fuzzies were flying fast and free, because, isn't that really why we're all here?
I'm excited to share my first-ever blog post! I reflected on all the ways that the #emailgeeks community has helped me grow personally and professionally to celebrate my one year Twitter anniversary. https://t.co/UN8N3VBHvF

— Jenn Clauss (@jenn_clauss) January 31, 2018
So tweet on, you email marketing diamonds in the rough. We'll be watching as always, and we'll see you all in March (the realm of the Pisces)!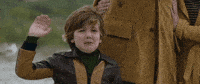 Trying to get ahead of the competition?
Check out our Learning Hub for everything you'll need to know!
---
You may also like:
Phrasee news
How will Apple's Mail Privacy Protection in iOS 15 affect Phrasee customers? Here's what it means for you.
Phrasee news
We are super stoked to announce our partnership with Braze. Read on to find out what's in store...
Phrasee news
We've partnered with Braze to eEnable seamless optimization of language across digital channels. Get the scoop.
Phrasee news
Phrasee announces the appointment of four new members of the leadership team, as demand for AI-Powered Copywriting continues to rise.
Phrasee team
We catch up with Jasper Pye, VP, Product at Phrasee, and John Galvin, Manager, Solutions Consulting EMEA at Cheetah Digital to find out more about the new Phrasee X Cheetah Digital integration from the experts that know it best!
Phrasee phun
Hi. We're Phrasee. And we make people money. How much money? If only there were some kind of tool where you could put in a few numbers about the performance of your email marketing program and then you'd click a button and get some kind of answer to that question! Oh wait! Find out what Phrasee could make for you.
Phrasee phun
With key email marketing performance metrics in decline industry-wide, finding ways to boost email marketing ROI is an important strategic goal for brands in 2021. Here's how to buck the trend and improve your brand's email marketing ROI in a rapidly shifting consumer landscape.
Phrasee phun
Travel has been in a tricky place but all indications, it seems, point to travel brands breaking out of the marketing holding pattern that they've been in, in the coming weeks and months. We've spent some serious time thinking about what our friends in the travel industry can do right now to prepare for the post-COVID-19 rebound to come.
Phrasee phun
With 2021 just around the corner, is your email marketing strategy ready? From personalization to segmentation and optimization to tracking, we share best practices for building an effective email marketing strategy.
Phrasee phun
This year, we are continuing our tradition and sending more bags of kindness to those in need. Find out more about why we're supporting the incredible cause that is Kindness Bags.