Phrasee's phunky 3rd birthday party (in images)
---
Nothing beats a great party.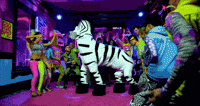 Especially when you have something awesome to celebrate.
Which we did.
Because Phrasee turned 3 this year, and we couldn't be prouder!
As a team, we've accomplished a great many things over the past 3 years. In fact, we've exceeded even our own most ambitious expectations. Our team has grown, our customer list has grown, and the quality/scope of our product has grown, so it only made sense that our birthday party should grow as well.
And grow it did.
This year, we gathered together many of our very phavourite pholks to London's Cuckoo Club, unleashed the champagne and balloon animals, and set about painting the town red once more.
Trying to get ahead of the competition?
Check out our Learning Hub for everything you'll need to know!
---