Phrasee pheatures: Natalie Johnson
---
Profiles in awesomeness: Meet Phrasee "Head of Sales, EMEA" Natalie Johnson
Phrasee is a special company.
Why? Some people might say it's because of our industry-leading artificial intelligence marketing language generation and optimisation technology, or the ever-growing list of brands availing themselves of our services and singing our praises. However, those people would be wrong.
What really sets Phrasee apart are the amazing people that show up, day in and day out, to help us grow our brand, deliver amazing service to our customers, and make our cutting-edge AI tech work.
One of those amazing people is Natalie Johnson.
Natalie Johnson is Phrasee's Head of Sales for the EMEA Region.
What does Phrasee's EMEA Head of Sales actually do? We'll let Natalie explain…
"I head up our Sales team here in London. We work with brands in showcasing the unique capabilities of Phrasee's AI to drive awesome uplifts in their marketing performance across email, social and push marketing channels. I am fortunate enough to be in the thick of all our conversations with new customers and potential customers to bring them onboard to Phrasee."
Those "unique capabilities" Natalie is referring to? How about our world-leading Natural Language Generation (NLG) system that writes human-sounding, brand-compliant language at scale, then analyses the performance of each campaign using advanced neural networks to self-learn the linguistic patterns that drive your audience to engage?
Indeed, selling a highly technical AI marketing platform like Phrasee to a world just learning exactly what AI marketing has to offer is no easy task. Luckily for us, Natalie is more than up to the challenge. Nat's friendly, engaging, and all-around likeable personality combine with her extensive sales background and in-depth technical understanding to make her one of the very best in the biz and an indispensable part of the Phrasee squad.
But is there more to this delightful sales maven than meets the eye?
That's just what we set out to find out…

Place of birth: Cheshire in the Northwest of England but I've been living on the fabulous sunny South Coast, in Brighton, for the last few years
How long have you been with Phrasee: I have just celebrated my first anniversary!
Favourite food: I'm about as stereotypical 'Northern' as you can get when it comes to this… it's chips & gravy!
Favourite day off activity: Living by the coast is quite special, so any day spent in and around Brighton.. be it out for food and drinks (which happens a lot!) or I recently bought a paddleboard so I'm teaching myself how to SUP.. first step… stand up!
The best thing about working at Phrasee: The People! They are bloody awesome.. oh and the very large beer fridge!
Favourite quote: "Life begins at the end of your comfort zone"
Biggest pet peeve: People chewing with their mouths open.. or anyone wearing a backpack on a crowded train.. grrrr
An interesting thing about you: As a teenager, I competed in aggressive inline skating competitions and even was a centrefold piece in 'Bliss' magazine (how 90s retro!) encouraging other girls to try out aggressive inline skating as it was pretty much entirely male-dominated.
Describe yourself with a gif: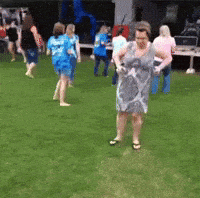 An interview with Natalie Johnson
How did you find your way onto the Phrasee team?
I had previously worked with Stefan (our CCO) for a few years when we were both at a UK ESP. After he'd been here for a couple of months he gave me a call.. and here I am!
What have you learned since joining the Phrasee team?
WOW! That's a loaded question… I have learnt so much… but I tell you, one thing everyone should learn is that artificial intelligence is not about robots coming to take over the world! AI is not one single holistic approach, it's made up of lots of fragmented pieces of technology. Where AI can help us humans is in supporting tasks, generating language, or to help us make better decisions using machine learning. It isn't something we need to fear.
What makes Phrasee special as a company?
The people. Honestly, we have the most incredible innovative, sophisticated technology, we have the most amazing customers who are cutting-edge within their fields, but none of it would be possible without the "get shit done" attitude of every single individual within the business. Phrasee have created something very, very special!
Why should brands use Phrasee?
RESULTS. Seriously, you will get awesome results. Every brand is unique. Every brand wants to stand out from their competitors. Every brand needs their marketing channels to deliver solid results. Phrasee generates brand-compliant, human-sounding marketing language that continually learns from the brands' audience to optimise for long-term uplifts in performance. This can be applied right across social, email and push channels. Your brand isn't generic, so why should your marketing language be?
What makes Phrasee's marketing language stand out from that of the competition?
It's human-sounding language generated uniquely for each brand, trained to deliver on-brand copy and it learns from the brand's audience to optimise for long-term performance gains. Not generic. Not spammy.
Where is Phrasee headed in the years to come?
World domination!
Phrasee's AI is extremely sophisticated and we will continue to develop into other marketing channels. Most recently we've applied Phrasee to Facebook Ads and to Push notifications, which has opened up a couple of really exciting markets for us.
What is your favourite thing about working at Phrasee?
Awesome Tech. Awesome Customers. Awesome Team. Simple!
What's it like working with AI?
Very cool. Phrasee is an extremely sophisticated use of AI. But my friends and family literally think I come in and play with robots all day.. meh, why say any different?!☺
What's the most exciting thing going on in your life today?
Aside from this interview, I have a very busy week ahead involving lots of trains and planes to visit new and potential clients, so I am busy preparing for my various meetings. I love being out on the road, meeting new people, so I'm excited!
Trying to get ahead of the competition?
Check out our Learning Hub for everything you'll need to know!
---