Phrasee pheatures: Molly Elisha-Lambert
---
Profiles in awesomeness: Meet Phrasee "Language Technical Lead" Molly Elisha-Lambert
Phrasee is a special company.
Why? Some people might say it's because of our industry-leading artificial intelligence marketing language generation and optimisation technology, or the ever-growing list of brands availing themselves of our services and singing our praises. However, those people would be wrong.
What really sets Phrasee apart are the amazing people that show up, day in and day out, to help us grow our brand, deliver amazing service to our customers, and make our cutting-edge AI tech work.
One of those amazing people is Molly Elisha-Lambert.
Molly Elisha-Lambert is Phrasee's Language Technical Lead.
What does Phrasee's "Language Technical Lead" actually do? We'll let Molly explain:
"I'm part of the language team. We design, build and maintain the bespoke language algorithms for each client. I help to ensure the language team is using our NLG (natural language generation) tech in the best way possible so that Phrasee always generates awesome marketing language and our users keep getting awesome results."
Thos awesome results Molly mentioned? How about boosting Gumtree's customer engagement by a full third, or helping Virgin Holidays generate several million pounds of additional digital marketing revenue?
Yes, as Phrasee's Language Technical Lead, Molly Elisha-Lambert has helped produce some rather impressive digital marketing numbers for our awesome partners. By ensuring that Phrasee's cutting-edge marketing language generation and optimisation AI technology delivers marketing language that is engaging, custom-tailored to the individual tastes of each and every customer Phrasee works with, and always on brand, Molly has worked tirelessly to keep Phrasee's marketing language ahead of the competition since her earliest days on the team.
A creative mind, outstanding problem-solving skills, and office-renowned attention to detail have combined to make Molly an indispensable key cog of the Phrasee squad's marketing ROI-generating machine.
But is there more to the marketing language dynamo with the positive attitude and winning smile than meets the eye?
That's just what we set out to find out…
Place of birth: Bexley, south east London, but I grew up in Brighton.
How long have you been with Phrasee: Just over two years
Favourite food: Steak. Medium Rare.
Favourite day off activity: Going to watch live comedy or spending the day on Brighton beach.
The best thing about working at Phrasee: The people. They're all really clever and stuff, that's a given, but when it comes to work you don't get much of a choice about whom you spend a huge chunk of your time with. So I'm lucky that the Phrasee folk are pretty great… Don't tell them I said that.
Favourite quote: "Frosties are just Corn Flakes for people who can't face reality." Mark Corrigan, Peep Show.
Biggest pet peeve: People whispering in my ear.
An interesting thing about you: I've dabbled in jujitsu and boxing. If perseverance was one of my attributes, I'd be a lethal weapon by now!
Pets: It's widely accepted I have the best dogs in the world (the survey sample might have been slightly biased). They're both chow chows. There's Bailey (white), who's just turned one, and Archie, who's about two.
Describe yourself with a gif: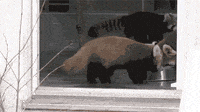 An interview with Molly Elisha-Lambert
How did you find your way onto the Phrasee team?
I first heard of Phrasee when I was about 6 months from finishing my degree and the reality hit me that I would actually have to start adulting soon. A job came up on a grad site that was asking for my degree, which as a Linguistics student is a pretty rare thing, and the concept of Phrasee seemed really cool. I decided then that I wanted to work at Phrasee, so kept an eye on the site until the role of language technician came up and applied.
What have you learned since joining the Phrasee team?
That there are so many roles that are crucial to creating a great AI product. Not just a genius computer scientist, although that one is pretty important.
What makes Phrasee special as a company?
Everyone who works here has what we call a 'get shit done' attitude. No problem is without a solution. I think it started as a product of being a small company, but as we've grown it's still a quality everyone shares.
Why should brands use Phrasee?
Because they want to get great results! Unless the best bit of your job is writing subject lines, there really is no downside to Phrasee.
What makes Phrasee's marketing language stand out from that of the competition?
We work really hard to make sure Phrasee generates language that is totally on brand. You're not getting generic or robotic sounding language. Phrasee is a master mimic, so audiences are always spoken to in a client's voice.
Where is Phrasee headed in the years to come?
The types of copy that Phrasee can generate and optimise is increasing big time. When I started Phrasee was only generating subject lines and predominately spoke English, but now Phrasee's a polyglot that generates triggers, push notifications and Facebook ads, and it's not going to stop there.
What is your favourite thing about working at Phrasee?
The speed of growth is really exciting. I love comparing where we are now to when I joined; we've really gone up in the world (literally, we're on the 7th floor now).
What's it like working with AI?
Seeing machine learning in action is really impressive. Copywriters can say what language they like the sound of, but Phrasee really understands what will resonate an audience. That's the bit of Phrasee that no human can match.
What's the most exciting thing going on in your life today?
We're building a language algorithm for a client with a bit of a racy brand voice… So we're getting Phrasee to generate some pretty cheeky stuff!
ALSO today is Friday, but not your average Friday… It's a Phrasee Phriday, which is even better. It's our monthly town-hall meeting, where we catch up and share information (and perhaps a beer or two).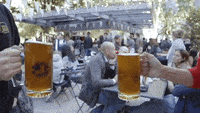 Trying to get ahead of the competition?
Check out our Learning Hub for everything you'll need to know!
---