Marketing The Rock: the amazing growth of Dwayne Johnson's personal brand
---
2016 was the year of The Rock.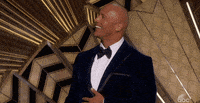 He was named "People's Sexiest Man Alive" and ranked as the highest paid actor in Hollywood. He diversified and expanded his horizons with an HBO television show, successful production company, popular YouTube channel, lifestyle brand, millions of die-hard social media followers and countless blockbuster movies in the works. It's fair to say, Dwayne "The Rock" Johnson is currently crushing it.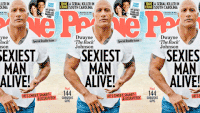 In 2016, Johnson brought in a whopping $64.5 million – more than doubling his 2015 earnings. His millions came from myriad projects including big movie money for films such as Central Intelligence, Moana and Fast and the Furious 8, which was just released in April and has banked more than $1 billion worldwide.
But what makes him so adored? How has The Rock marketed himself in a way that connects so well with millions of fans worldwide? Why has he risen above the rest? What lessons can marketers and brands learn from his amazing success?
Let's start from the beginning…
Marketing The Rock: the amazing growth of Dwayne Johnson's personal brand
The wrestling years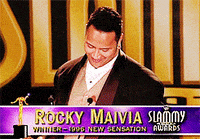 The former WWE wrestler started out his career after a lukewarm stint in Canadian professional football. When football didn't work out, Johnson decided to follow in his father and grandfather's footsteps and start a career in professional wrestling. In 1996 he debuted on TV with the name "Rocky Maivia" (combining the names of his father and grandfather) and went on to be known for signature moves like "The People's Elbow" and "The Rock Bottom", as well as his smack-talking character and rogue eyebrow.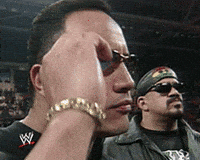 During his time at WWE he also won the WWE heavyweight title six times and the tag-team title five times.
In 2000, Johnson was asked to host Saturday Night Live (an honour which he's now enjoyed five times). This marked a turning point in The Rock's career. Hollywood got a look at his acting chops and it liked what it saw.
The Rock's golden days of Hollywood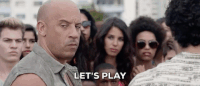 As Johnson made the tenuous leap into Hollywood, it quickly became clear that he would walk a different path compared to the other wrestler-cum-actors who preceded him. Famous wrestlers Hulk Hogan and Bill Goldberg have also acted in major films but always tending to play their wrestling arena characters. By contrast, Johnson played varied characters and proved that he could do almost anything well. Sure, he could throw down and nail a fight or action sequence, but he could also be nice and funny.
Johnson made his movie debut in 2001 in The Mummy Returns playing a role that he would bring back in The Scorpion King. From there he went on to star in a range of movies from action to family films. In 2011 he joined the Fast and the Furious gang in the franchise's fifth film and has since been in the sixth, seventh and eighth installments of the film series.
Will he be winning an Oscar anytime soon for playing yet another beefed up ex-cop? Probably not (though at the rate he's going, we wouldn't put it past him). However, it is clear that he knows what audiences like and can deliver.
Through his talent and charm, he's also been able to completely cross over to the 'movie star' role rather than be remembered mainly for being a former wrestler.
The Rock's third act (world domination)
Dwayne "The Rock" Johnson's rise in worldwide popularity seems to be very much a credit to his own savviness when it comes to presenting himself to the public. By connecting with fans and audiences on different social media platforms in an honest, authentic and approachable way, Johnson has found a way to keep people coming back for more. In today's social media circus, where folks fall in and out of favour by the day, this is no small task.   
In the past year and a half, Johnson has really upped his game on social media and creating his own channels to connect with fans. On Instagram he shares a mix of behind the scenes work shots, tributes to his daughters and mother, and cute pug photos (always a smart move). Pairing this with thoughtful captions that truly seem genuine and provide an inside look into his life has had a huge impact.
Last year Johnson launched his own YouTube channel with his production studio called "Seven Bucks Productions". He is now creating his own content that then gets pushed out to his millions of subscribers.
He's also changing the way movies are marketed. While sharing set secrets and behind the scenes shots before a movie premiere used to be a no-no, now studios are seeing real value from the stars' personal channels and are starting to share content earlier and earlier.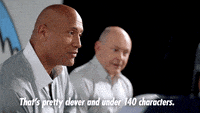 Dwayne currently has 86.7 million Instagram followers, 58.1 million Facebook followers 11.3 million Twitter followers and 2.1 million YouTube subscribers for a combined social media reach of nearly 160 million people. Across all those channels he shares photos, videos and announcements about the films he's in as he's working on them. This massive reach keeps audiences informed about his films. His followers regularly see these (essentially promotional) posts pop up in their social media feeds months or even years before the films are released. Johnson's posts, featuring things like set photos with fans, often get picked up by other media. This creates even more coverage for the film. All of this while spending very little on marketing. A fervent fan base with that kind of brand awareness offers marketing value that few big name actors can come close to.   
The future…
Johnson's latest move, Joining forces with Under Armour and advertising agency Droga5 last year (2016: Year of The Rock!) to roll out his own lifestyle brand – known only as 'Project Rock'- most likely represents yet another stroke of marketing genius for both Johnson and his personal brand.
To position Project Rock, Droga5 dove deep into the essence of 'The Rock' to see what he stood for and why fans felt so connected. It didn't take them long to realise what fans had known all along, that he's seen as an 'emotional motivator' who comes across in a genuine manner. This is the golden ticket to getting potential consumers to connect to your message or brand.
Now, as rumours of a possible US presidential run in the near future begin to swirl, speculation about The Rock's future runs rampant. In a Public Policy Polling poll looking at a hypothetical election between Johnson and current president Donald Trump, The Rock had 42% support over Trump's 37%.
One can only wonder what the future may hold for the decade's most dynamic superstar.
But, regardless of whether he one day leads the free world, The Rock's natural knack for marketing himself and his brand represent an important marketing case study. A case study which marketers, advertisers and brands would all do well to look at in depth.
The smile doesn't hurt either.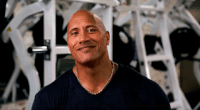 Trying to get ahead of the competition?
Check out our Learning Hub for everything you'll need to know!
---