8 awesome New Year's subject lines no-one has used yet
---
Let's be honest: 2017 has been a strange year.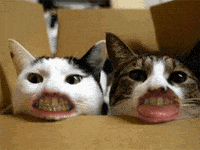 Exactly.
What will 2018 have in store? Only time will tell.
If the New Year's email marketing subject lines on offer so far this year are any indication, we could be in for another rough year. Like so many significant dates on the world's collective calendar, New Year's Eve and New Year's Day have traditionally been just one more occasion for the world's brands to trot out tired, stale, and cliched email subject line content.
Here at Phrasee, we think that's a damn shame.
We view every festive occasion as just one more opportunity to build effective, engaging subject line copy that makes brands more money.
But hey, that's just us, and we must make allowances for those unfortunate souls out there without the advantages of sophisticated language generation AI technology at their fingertips.
And make allowances we shall!
Here are a few suggestions, from us to you, free of charge, to ring in 2018 in subject line style…
1) Our New Year's resolution? 12.7 megapixels, 25% off all week from Canon.
Ah, camera puns.
2) Let's toast 2017! Check out our amazing selection of breads!
You're welcome, bakeries of the world. Everybody likes toast, right?
3) Best meal you've had all year! Get 2 for 1 at Lou's House of Oysters today only!
We suppose any restaurant which poisoned a customer in 2017 could (and should) use this same tactic.
4) Happy New Ears! Discounts on corn now available.
Little known fact: more corn is sold on New Year's Day worldwide than on any other day of the year. OK, maybe that's not true yet, but it will be once everyone starts using this subject line.
5) Happy New Year Steve!
Is your mailing list filled exclusively with folks named Steve? If so, your open rates are gonna skyrocket.
6) Happy Gruyere! All cheeses 25% off !
mmm… cheese.
7) Lettuce celebrate the new year in style! 
Lettuce farmers use email marketing, right?
8) Fill the coming year with random Axe of kindness: Axe Body Spray 90% off!
There's no such thing as too much Axe Body Spray, right?
Are these perfect? Not even close. Were they optimised and tested using Phrasee's sophisticated artificial intelligence language generation technology? No, but they could've been.
They haven't been analysed, they haven't been tested, and to be perfectly honest, they might not perform all that well. But we can promise you one thing: using any of the subject lines listed above will be less boring than any subject line which follows old, tired New Year's subject line trends.
And in the world of email marketing subject lines, less boring is always a step in the right direction.
From all of us here at Phrasee, have a safe and happy New Year!
Need help with your brand's New Year's email marketing campaigns? Check out Phrasee. It's awesome!
Trying to get ahead of the competition?
Check out our Learning Hub for everything you'll need to know!
---
You may also like:
Phrasee news
How will Apple's Mail Privacy Protection in iOS 15 affect Phrasee customers? Here's what it means for you.
Phrasee news
We are super stoked to announce our partnership with Braze. Read on to find out what's in store...
Phrasee news
We've partnered with Braze to eEnable seamless optimization of language across digital channels. Get the scoop.
Phrasee news
Phrasee announces the appointment of four new members of the leadership team, as demand for AI-Powered Copywriting continues to rise.
Phrasee team
We catch up with Jasper Pye, VP, Product at Phrasee, and John Galvin, Manager, Solutions Consulting EMEA at Cheetah Digital to find out more about the new Phrasee X Cheetah Digital integration from the experts that know it best!
Phrasee phun
Hi. We're Phrasee. And we make people money. How much money? If only there were some kind of tool where you could put in a few numbers about the performance of your email marketing program and then you'd click a button and get some kind of answer to that question! Oh wait! Find out what Phrasee could make for you.
Phrasee phun
With key email marketing performance metrics in decline industry-wide, finding ways to boost email marketing ROI is an important strategic goal for brands in 2021. Here's how to buck the trend and improve your brand's email marketing ROI in a rapidly shifting consumer landscape.
Phrasee phun
Travel has been in a tricky place but all indications, it seems, point to travel brands breaking out of the marketing holding pattern that they've been in, in the coming weeks and months. We've spent some serious time thinking about what our friends in the travel industry can do right now to prepare for the post-COVID-19 rebound to come.
Phrasee phun
With 2021 just around the corner, is your email marketing strategy ready? From personalization to segmentation and optimization to tracking, we share best practices for building an effective email marketing strategy.
Phrasee phun
This year, we are continuing our tradition and sending more bags of kindness to those in need. Find out more about why we're supporting the incredible cause that is Kindness Bags.