8 awesome New Year's subject lines no-one has used yet
---
Let's be honest: 2017 has been a strange year.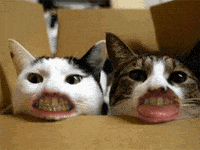 Exactly.
What will 2018 have in store? Only time will tell.
If the New Year's email marketing subject lines on offer so far this year are any indication, we could be in for another rough year. Like so many significant dates on the world's collective calendar, New Year's Eve and New Year's Day have traditionally been just one more occasion for the world's brands to trot out tired, stale, and cliched email subject line content.
Here at Phrasee, we think that's a damn shame.
We view every festive occasion as just one more opportunity to build effective, engaging subject line copy that makes brands more money.
But hey, that's just us, and we must make allowances for those unfortunate souls out there without the advantages of sophisticated language generation AI technology at their fingertips.
And make allowances we shall!
Here are a few suggestions, from us to you, free of charge, to ring in 2018 in subject line style…
1) Our New Year's resolution? 12.7 megapixels, 25% off all week from Canon.
Ah, camera puns.
2) Let's toast 2017! Check out our amazing selection of breads!
You're welcome, bakeries of the world. Everybody likes toast, right?
3) Best meal you've had all year! Get 2 for 1 at Lou's House of Oysters today only!
We suppose any restaurant which poisoned a customer in 2017 could (and should) use this same tactic.
4) Happy New Ears! Discounts on corn now available.
Little known fact: more corn is sold on New Year's Day worldwide than on any other day of the year. OK, maybe that's not true yet, but it will be once everyone starts using this subject line.
5) Happy New Year Steve!
Is your mailing list filled exclusively with folks named Steve? If so, your open rates are gonna skyrocket.
6) Happy Gruyere! All cheeses 25% off !
mmm… cheese.
7) Lettuce celebrate the new year in style! 
Lettuce farmers use email marketing, right?
8) Fill the coming year with random Axe of kindness: Axe Body Spray 90% off!
There's no such thing as too much Axe Body Spray, right?
Are these perfect? Not even close. Were they optimised and tested using Phrasee's sophisticated artificial intelligence language generation technology? No, but they could've been.
They haven't been analysed, they haven't been tested, and to be perfectly honest, they might not perform all that well. But we can promise you one thing: using any of the subject lines listed above will be less boring than any subject line which follows old, tired New Year's subject line trends.
And in the world of email marketing subject lines, less boring is always a step in the right direction.
From all of us here at Phrasee, have a safe and happy New Year!
Need help with your brand's New Year's email marketing campaigns? Check out Phrasee. It's awesome!
Trying to get ahead of the competition?
Check out our Learning Hub for everything you'll need to know!
---