8 awesome Christmas subject lines no-one has used yet
---
'Tis the season… for lame Christmas email subject lines!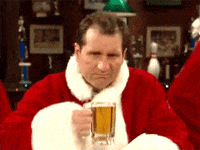 Your inbox is probably full of them already.
The Holiday season is an absolutely immense time of year in the email marketing world. Global spending is about to skyrocket, brands have set lofty revenue goals, and the competition to stand out in the inbox is more intense than pretty much any other time of the year.
Odd then, that so many brands and email marketers seem to mail it in when it comes to composing Christmas email subject lines…
Maybe it's all the rich food, booze and shopping that makes this amazing industry and its many talented people drop the proverbial subject line ball every December. Maybe everyone's just a bit distracted. Whatever the reasons, even brands which have put thought and effort over the past 11 months can be expected to sit back on their laurels, crank out a few "Amazing holiday savings!" hack jobs, and get back to pounding back the eggnog and pies for the next couple of weeks.
But not here at Phrasee. Not our customers.
Will we (and they) also be eating pies? Probably.  But we have something going for us which many brands don't: sophisticated AI language generation technology to do most of our Christmas subject line heavy lifting for us. We're lucky like that.
But hey, the Holiday season is all about giving, right?
We have some awesome suggestions to help all of you in the mighty email marketing community do better this year.
Merry Christmas!
8 awesome Christmas subject lines no-one has used yet
1) Glad tidings we bring, to you and gherkin… Give the gift of pickles this Christmas!
2) Yule scarcely believe these Rudolph-tastic Christmas gift offers!
Mixing one pun and one trying-to-be-a-pun is so hot this year.
3) Get North Swole with discount fitness memberships!
Boom.
4) Merry Crustmas! Surprise your family with a pizza dinner!
Mmmm… pizza.
5) This is my house, and I have to defend it! Home security systems 50% off this week!
What, you've never seen Home Alone?
6) Happy Haulidays! Free shipping 'till January!
How has no-one used this yet? We can't imagine.
7) Hairy Christmas! It's 2 for 1 week at Supercuts!
If you are in the barbering business you'd better use this.
8) Why bother with elf-checkout? Order everything yule need for Christmas now!
Are we the only ones who still find self-checkout confusing?
Are these perfect? Not even close. Were they optimised and tested using Phrasee's sophisticated artificial intelligence language generation technology? No, but they could've been.
They haven't been analysed, they haven't been tested, and to be perfectly honest, they might not perform all that well. But we can promise you one thing: using any of the subject lines listed above will be less boring than any subject line which follows old, tired Christmas subject line trends.
And in the world of email marketing subject lines, less boring is always a step in the right direction.
From all of us here at Phrasee, Have a safe and pleasant holiday season, one and all!
Need help with your brand's New Year's email marketing campaigns? Check out Phrasee. It's awesome!
Trying to get ahead of the competition?
Check out our Learning Hub for everything you'll need to know!
---
You may also like:
Phrasee news
How will Apple's Mail Privacy Protection in iOS 15 affect Phrasee customers? Here's what it means for you.
Phrasee news
We are super stoked to announce our partnership with Braze. Read on to find out what's in store...
Phrasee news
We've partnered with Braze to eEnable seamless optimization of language across digital channels. Get the scoop.
Phrasee news
Phrasee announces the appointment of four new members of the leadership team, as demand for AI-Powered Copywriting continues to rise.
Phrasee team
We catch up with Jasper Pye, VP, Product at Phrasee, and John Galvin, Manager, Solutions Consulting EMEA at Cheetah Digital to find out more about the new Phrasee X Cheetah Digital integration from the experts that know it best!
Phrasee phun
Hi. We're Phrasee. And we make people money. How much money? If only there were some kind of tool where you could put in a few numbers about the performance of your email marketing program and then you'd click a button and get some kind of answer to that question! Oh wait! Find out what Phrasee could make for you.
Phrasee phun
With key email marketing performance metrics in decline industry-wide, finding ways to boost email marketing ROI is an important strategic goal for brands in 2021. Here's how to buck the trend and improve your brand's email marketing ROI in a rapidly shifting consumer landscape.
Phrasee phun
Travel has been in a tricky place but all indications, it seems, point to travel brands breaking out of the marketing holding pattern that they've been in, in the coming weeks and months. We've spent some serious time thinking about what our friends in the travel industry can do right now to prepare for the post-COVID-19 rebound to come.
Phrasee phun
With 2021 just around the corner, is your email marketing strategy ready? From personalization to segmentation and optimization to tracking, we share best practices for building an effective email marketing strategy.
Phrasee phun
This year, we are continuing our tradition and sending more bags of kindness to those in need. Find out more about why we're supporting the incredible cause that is Kindness Bags.