8 awesome Black Friday subject lines no-one has used yet
---
When did "Black Friday" become a thing?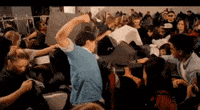 The phrase "Black Friday" dates back to 1960s where it was originally used to describe the disruptive foot and vehicle traffic typical the day after US mega-holiday Thanksgiving. Black Friday didn't become a part of the common English lexicon until more than 30 years later. Retailers began marketing the date as a day consumers could expect deep discounts, unheard of the during rest of the year.
In the US, where Black Friday bargain hunting has lately become an institution, the day after Thanksgiving has been the busiest shopping day of the year. With throngs of shoppers eagerly (and often aggressively) trying to make the most of each year's Black Friday discounts, the annual news coverage of the ensuing mayhem has become a national tradition all of its own.
But it's not all fun and games.
Since 2006, 10 deaths and more than 100 injuries have resulted from the overzealous Black Friday shoppers, and many view this particular "holiday" as a powerful symbol for the dark side of capitalism run rampant.
Here in the email marketing realm, where deep discounts are like campaign rocket fuel, Black Friday represents little more than a golden opportunity to snap up revenue.
To date, there have been no recorded injuries or deaths resulting from Black Friday marketing emails – unless you count the mental strain of reading lame Black Friday email subject lines as an injury.
If you do, Black Friday has become an annual email marketing bloodbath.      
But it doesn't have to be…
8 awesome Black Friday subject lines no-one has used yet
1) "Black Friday guarantee: free abacus with every purchase – you can count on it!"
***note: if you use this subject line make sure you have some abacuses on hand to give those who miss the joke***
2) "Broken puppets, 60% off! No strings attached."
Does anyone sell broken puppets via email these days? #marketgap
3) "These Black Friday revolving fan prices will blow you away!"
If you have a client in the revolving fan business you can thank us later.
4) "Black Friday stationery deal: 300 push-pins and 1,000 staples for only $3.99 (plus tacks)"
If you are in the stationery business and haven't been using the words "plus tacks" in your subject lines, you're probably out of business by now anyway.
 5) "Waiting in line for these amazing prices on canoe paddles would be quite an oar deal!"
Everybody loves oar puns.
6) "What's the biggest pan in the world? Japan! (15% off pans all day Black Friday)"
Boom.
7) "If you don't buy your Velcro shoes from us this Black Friday, you'll get ripped off."
As an aside, we think velcro is due for a huge comeback.
8) "Thanksgiving is over. Stop being thankful for what you have. Come to our store and trample people to buy things you don't!
Someone had to say it.
Need help with your brand's Black Friday email marketing campaigns? Check out Phrasee. It's awesome!
Trying to get ahead of the competition?
Check out our Learning Hub for everything you'll need to know!
---
You may also like:
Phrasee news
How will Apple's Mail Privacy Protection in iOS 15 affect Phrasee customers? Here's what it means for you.
Phrasee news
We are super stoked to announce our partnership with Braze. Read on to find out what's in store...
Phrasee news
We've partnered with Braze to eEnable seamless optimization of language across digital channels. Get the scoop.
Phrasee news
Phrasee announces the appointment of four new members of the leadership team, as demand for AI-Powered Copywriting continues to rise.
Phrasee team
We catch up with Jasper Pye, VP, Product at Phrasee, and John Galvin, Manager, Solutions Consulting EMEA at Cheetah Digital to find out more about the new Phrasee X Cheetah Digital integration from the experts that know it best!
Phrasee phun
Hi. We're Phrasee. And we make people money. How much money? If only there were some kind of tool where you could put in a few numbers about the performance of your email marketing program and then you'd click a button and get some kind of answer to that question! Oh wait! Find out what Phrasee could make for you.
Phrasee phun
With key email marketing performance metrics in decline industry-wide, finding ways to boost email marketing ROI is an important strategic goal for brands in 2021. Here's how to buck the trend and improve your brand's email marketing ROI in a rapidly shifting consumer landscape.
Phrasee phun
Travel has been in a tricky place but all indications, it seems, point to travel brands breaking out of the marketing holding pattern that they've been in, in the coming weeks and months. We've spent some serious time thinking about what our friends in the travel industry can do right now to prepare for the post-COVID-19 rebound to come.
Phrasee phun
With 2021 just around the corner, is your email marketing strategy ready? From personalization to segmentation and optimization to tracking, we share best practices for building an effective email marketing strategy.
Phrasee phun
This year, we are continuing our tradition and sending more bags of kindness to those in need. Find out more about why we're supporting the incredible cause that is Kindness Bags.