8 Awesome International Pizza Day subject lines no-one has used yet
Did you know that February 9th is International Pizza Day?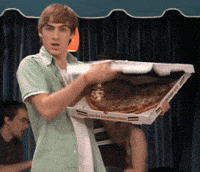 Neither did we.
But here's the thing: Capturing consumer attention via email marketing during the big holidays (Christmas, Valentine's Day, Hanukkah, Easter) can be tough, because every other brand in the world will be doing the exact same thing.
Sure, you should still send campaigns during those email marketing-heavy holidays as well, and yes, better subject line copy can give you an edge over the competition, but what about the lesser-known holidays – the ones your competitors might not even know about?
Those you could have all to yourself…
Think about it.
It just might be crazy enough to work.
What would International Pizza Day email subject lines look like, anyway?
There was only one way to find out.
Sadly, we couldn't put the awesome power of our artificial intelligence-driven marketing language generation and optimisation technology on the task. It's busy at the moment helping our customers make more money through better marketing language.
But that doesn't mean we can't speculate.
1) "You wanna pizza me? 40% off lego this International Pizza Day"
People still buy lego, right? While we're at it, is it "a piece of lego" or "a block of lego"?
2) "It was slice having you stay at the New York Sheraton last month. How about a half-priced room for International Pizza Day"
***Dusts off hands*** Pretty sure we'll sign Sheraton as soon as their marketing team sees that one.
3) "How did the hipster burn his tongue? He ate his pizza before it was cool."
***shakes fist*** take that, hipsters!
4) "Nobody likes a burnt Hawaiian pizza. Next time you should put it on aloha temperature"
Maybe for a brand that sells ovens or something?
5) "These deals will save you some dough on International Pizza Day"
See what we did there?
6) "Cut my life into pizza. This is my plastic fork…"
Remember Papa Roach? Weird band name.
7) "Stop being a weirdough. Open this International Pizza Day email."
Insulting your customers is an underrated marketing tactic
8) A pizza walks into a bar. Bartender says "sorry, we don't serve food here"
Boom.
Happy International Pizza Day from all of us here at Phrasee!
Sign up to Phrasee's weekly newsletter. It's awesome. We promise.