8 awesome Boxing day subject lines no-one has used yet
Boxing Day is one of the busiest shopping days of the year, which has never really made sense to us…
But hey, to each their own, right?
2017 was a record-breaking year for Boxing Day spending in the UK and US, with £4.5 billion ($7.8 billion) being spent in the UK alone. This year's Boxing Day shopping bonanza looks to be another big one for brands across the globe, and as always, email marketing will be playing its part to keep that sweet, sweet Boxing Day revenue flowing.
But here's the thing: with so many brands clamoring to claim subscriber attention on the same day, the competition in the email inbox this December will be fierce. Getting those all-important email opens to get eyeballs on your brand's offers will be tougher than ever before. You've only got one shot to claim your share of the Boxing Day email marketing pie this year, so you'd better make it count.
Your subject lines will absolutely have to be on point. Why? It's simple: If nobody opens your emails, nobody will see your offers. And if nobody sees your offers, they won't buy anything from you.
An awesome Boxing Day subject line is the best way to ensure that your subscribers read your emails. That's why here at Phrasee, we're busy as can be making sure our cutting-edge AI marketing performance technology is writing the best on-brand AI-optimized email subject lines our customers need to make the most of the lucrative email marketing opportunity Boxing Day offers.
But hey, this is the season of giving, right?
That's why we've decided to offer up a few choice Boxing Day subject lines, free of charge, for those who haven't experienced the Phrasee difference yet.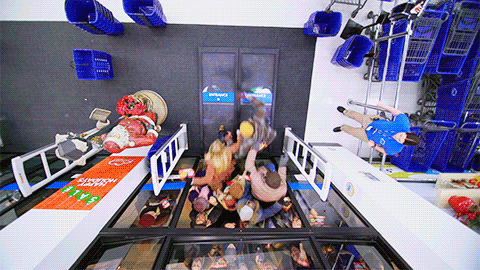 Image credit: NBC
via GIPHY
Happy Boxing Day. You're welcome…
1) "Get skunked by Santa because you were naughty all year? Buy it for yourself… cheap!"
You know who you are…
2) "If you buy something at a discount and mail it today, no-one will know."
This was your plan all along, wasn't it?
3) "Box up a box for the boxiest Boxing Day ever!"
Boxing Day must be a cakewalk for box manufacturers…
4) "Celebrate Boxing Day by taking up boxing at Gold's Gym: memberships 25% off today"
Also a cakewalk for Boxing gyms, probably.
5) "Why spend time with your family when you could spend money at our store instead?"
The "people who find their relatives annoying" demographic is a lucrative one indeed
6) "Do all your Christmas shopping for next year now, and cruise stress-free for the next 12 months"
We know what you did every year, Dad!
7) About to expire fruitcakes, mince pies, and eggnog – 90% off
Why are so many Christmas "treats" so gross, anyway?
8) Happy Easter!
They'll never see this one coming!
Image credit: Miramax Films
via GIPHY
A Merry Christmas and a happy Boxing Day from all of us here at Phrasee! We'll see you in January!