3 ways the finance industry is doing email marketing right (and 1 way it could do better)
The digital transformation has been a clumsy journey for brands in many sectors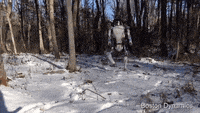 via GIPHY
Not in the finance sector, though.
The digital revolution was seemingly custom-made for financial brands, and financial brands were seemingly made for the digital revolution.
Information is the fuel that makes digital channels run, and getting that information where it needs to be as quickly and efficiently as possible is essential. Fortunately for brands in the financial sector, their needs are much the same.
That's probably why financial brands have been digital leaders from the earliest days of the digital transformation, and why they've pioneered key developments on many of the digital age's most important channels.
This includes the digital channel that started it all: email.
Are there email marketing lessons other industries could learn from financial brands? You bet.
Here are few things the finance industry is doing right in its email marketing efforts, that every brand should take note of…
1) Epic relationship building
Financial brands have become incredibly adept at making the email marketing dialogue a key factor in the building and maintaining of healthy, long-lasting customer relationships. Sure, such brands have the added advantage of offering information their subscribers want on a regular basis in the form of financial statements and reports, but they certainly haven't stopped there. Financial brands have made a point of providing clear, concise, language and design in their email marketing efforts as well. Why? Because they know that maintaining subscriber trust is the surest way to keep consumers open to the email marketing dialogue.  
2) Surgical targeting
Financial brands generally make a point of knowing a lot about their customers. They collect data throughout the customer journey, tracking the performance of their campaigns and targeting subscribers with email campaigns in the most efficient ways possible.
Since keeping the email marketing dialogue open is so crucial to long-term marketing success, marketers in the financial sector learned long ago that antiquated "batch and blast" email marketing strategies were a poor fit for their industry. This is why financial brands have long been leaders in the hyper-personalization and micro-targeting game.
Successful financial brands have made the most of such tactics, and have been reaping the email marketing ROI rewards for some time.
3) TLC for CLV
Unlike the retail industry, where a consumer making a purchase is often viewed as the end goal, a single purchase (or investment) from a financial brand represents only the beginning of a potentially lucrative long-term relationship with a new customer.
Customer lifetime value (CLV) is a much more valuable metric for financial brands to focus on.
That's why it's so important for financial brands to cultivate CLV throughout the journey to purchase and beyond. Financial brands have gone to great lengths to ensure that their marketing emails never appear spammy, never annoy their customers, and offer value on a regular basis. In this way, the financial sector has been able to protect and grow customer lifetime value within the email channel and beyond.
Bonus! One way the financial sector could do email marketing better
If you are familiar with Phrasee at all, you probably knew this was coming. While brands in the financial sector have certainly been leaders in the forward evolution of the email marketing "best practices" list, the email subject lines most financial brands attach to their emails leave much to be desired.
A well-crafted and optimised email subject line can help your financial brand stand out from the crowd and get more eyeballs on marketing emails. Learning what kind of subject lines your audience responds to and optimising your subject line language accordingly is what gets your brand more of those valuable eyeballs.
Here at Phrasee, we've made understanding that science priority #1, and our sophisticated AI technology has helped us every step of the way.
Our AI can help your financial brand make more money too.
Sign up to Phrasee's weekly newsletter. It's awesome. We promise.